Jeffboat provides custom design and construction of marine vessels and equipment. This industry leader specializes in hopper barges, tank and oceangoing tank barges and towboats. During the manufacturing process, their plasma cutting systems were producing excess smoke, which the existing water table was not able to satisfactorily eliminate. Another factor considered in making the decision to go "Downdraft" was the excessive cost and downtime associated with draining, re-filling and removing of the waste associated with the Plasma Cutting Process such as scrap steel and slag. This process can be messy and very time consuming. Based upon these factors, Jeffboat made the decision to test a down-draft system. After a number of false starts with other systems, Jeffboat gave Universal Torch and Equipment an opportunity to resolve these issues.
Scott of Universal Torch & Equipment worked with Jeffboat's purchasing, engineering and maintenance departments to determine the best solution for their application. The decision was made to try the GS48L Gold Series® industrial dust collector with related components — such as a sprinkler system and spark trap inlet. Due to the collector being installed inside the building, a silencer was also added to reduce the noise level to OSHA requirements.
This system was designed and installed by Universal Torch & Equipment to meet this particular customer's requirements as well as the EPA requirements. It was designed to handle any possible upgrade of the existing plasma table. This expandability is based upon the systems available in the present market.
It was determined that the decision to go with this custom designed downdraft system, the savings would pay for the new Universal Torch & Equipment downdraft system in approximately 18 months after taking all factors into consideration. Added benefits are the virtual elimination of dust/smoke problems produced by the plasma cutting and safeguarding the health of the workers.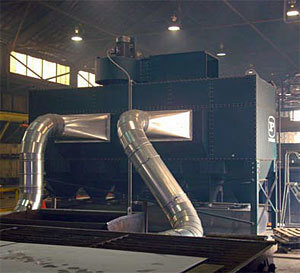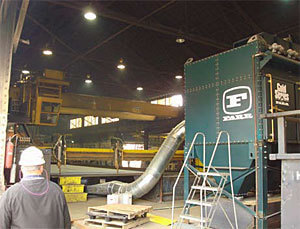 Client Name
Jeffboat, Inc.