Coolant Mist Collector Solves Mist Problems
Applications:
Turning
Milling
Honing
etc.
A user-friendly, modular, highly-efficient mist collector
The EM Profi mist collector offers the highest available collection efficiencies plus the ability to run 24/7 for reduced maintenance, service ease, and lower operating costs. The unit can handle the heaviest loads encountered in the industry to clean up contaminants generated during turning, milling, honing and other low speed/low pressure machining processes that use synthetic coolants.
Worker safety, production efficiency, and capital equipment protection cannot be compromised. Got a problem with coolant mist? Call Camfil APC and consider the EM Profi.
Multi-Stage Filtration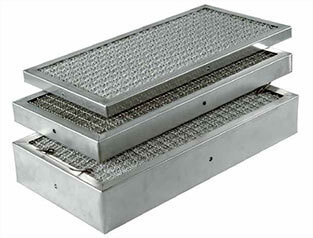 We consistently achieve high separation performance by designing our filter materials to meet specific needs or to handle a given droplet spectrum. We do this through optimized, flow-engineered, multi-stage design:
SELF-REGENERATING SEPARATION STAGES – Self-regeneration is achieved by using high efficiency, stainless steel woven mesh filters located at a slight angle within the units. This combination provides optimum separation efficiency and drainage.
FINAL FILTER – Final safety HEPA filters are 99.97% efficient on .3 micron and larger particles.
SIMPLE SETUP – EM Profi units are modular for capacity/sizing and customizable with many optional accessories.
User-Friendly Maintenance
The EM Profi is extremely easy to maintain. Large service doors and quick-lock latches make it possible for a single technician to easily perform installation and removal from the floor, eliminating extra manpower and lift equipment. Service life between changeouts is up to six years for mist separation filters and two years for HEPA filters. Large maintenance doors and quick-clamping elements facilitate fast, toolless filter replacement. Due to these features, EM Profi collectors offer substantial savings through reduced downtime, longer changeout cycle intervals, and increased productivity and reliability.

Modular Design
Minimum space required for maximum performance


System can be expanded in the future as needed
Short delivery time
Easy transport and installation
Basic Modules:
Ground/platform versions with optional return pump station (for recirculating separated fluids)
Filter module (contains main and final filter)
Connection box for use with an external fan. The connection can be on left, right or rear side.
Built-in fan in compact design enclosure with integrated sound insulation
Top-mount fan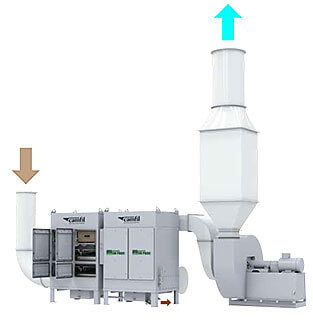 Models/Air Volume
3.0/1,700 CFM
4.5/2,600 CFM
6.0/3,500 CFM
9.0/5,300 CFM
13.5/8,000 CFM
Key Features:
Self-cleaning
Automatic sprayer system reduces filter buildup
Corrosion-proof and washable two-stage filtration system
No leaks – guaranteed!
Easy maintenance
No Leaks – Guaranteed
German engineering and American manufacturing expertise result in premium quality products. We guarantee that our mist collectors will not leak.
Download our 12-year limited warranty for details.