Mist Collector Solves Emulsion/Coolant Mist Problems
Applications:
Emulsion mist separation/filtration
Coolant mist separation/filtration
A user-friendly, modular solution for highly efficient emulsion/coolant mist collection and separation
The Handte EM Profi emulsion/coolant mist collector offers the highest available collection efficiencies plus the ability to run 24/7 for reduced maintenance, service ease, and lower operating costs. The unit can handle the heaviest loads encountered in the industry to clean up contaminants generated during milling, drilling, tapping, turning, grinding and other machining processes that utilize emulsion mist coolants.
Worker safety, production efficiency, and capital equipment protection cannot be compromised. Got a problem with coolant mist? Call in the emulsion professional—the Handte EM Profi.
Key Features:
Self-cleaning
Automatic sprayer system reduces filter buildup
Corrosion-proof and washable two-stage filtration system
No leaks – guaranteed!
Easy maintenance
No Leaks – Guaranteed
German engineering and American manufacturing expertise result in premium quality products. We guarantee that our mist collectors will not leak.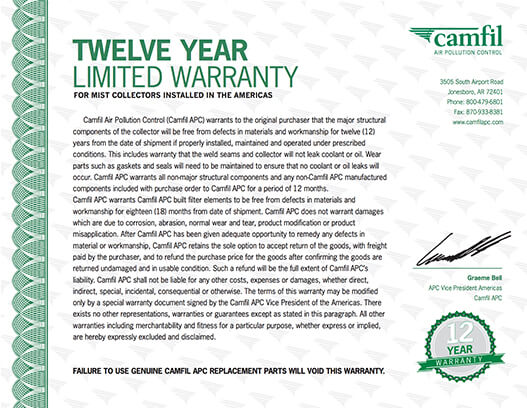 Download our 12-year limited warranty for details.