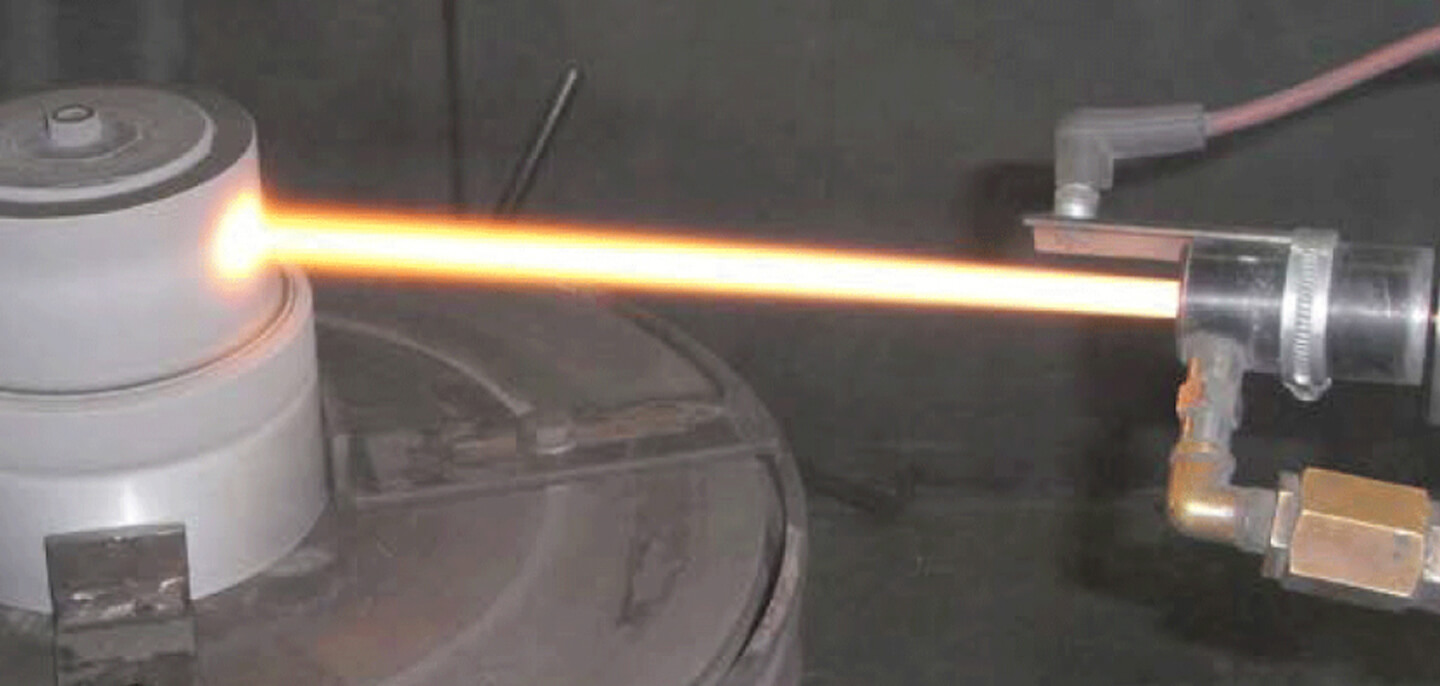 Health and Emission Hazards of Dusts from Thermal Spray Processes
The thermal spray powder coating process atomizes molten metals, which can produce contaminants that threaten worker health and safety. The process creates airborne particles that can be smaller than one micron and can embed deep in lung tissues. Most commonly, metal dust particles enter the respiratory system, but they can also irritate the eyes, mouth, throat, stomach and skin.
The fine dust particles generated during powder spraying can contain a variety of metals associated with health risks. Some of the materials that are sprayed, like nickel and chromium, are known carcinogens. In fact, most chromium-bearing materials can produce hex chrome particles when exposed to the high energy levels required for thermal spraying. Other metals like zinc, bronze, cobalt, aluminum and copper alloys can cause sickness, fever, allergic reactions, lung fibrosis, skin diseases, or pneumoconiosis. Manufacturers must know the permissible exposure limit (PEL) for all materials they handle to stay compliant with OSHA regulations. Dust collectors are the preferred engineering control to maintain a safe PEL and safeguard operators from serious health concerns.
Combustible Dust Fire and Explosion Hazards
Metal particles in the air can create an explosion hazard. Dust collectors prevent combustible metal dust particles from accumulating on floors and other surfaces. However, it is crucial for dust collection systems that handle combustible dusts to be sized correctly for each spray application and according to the recommendations in a dust hazard analysis and NFPA 652. Dust collectors must also be fitted with the correct explosion protection equipment...explosion vents, flame retardant cartridges, and possibly spark traps. A correctly engineered dust collection system minimizes risks, protects workers and keeps manufacturers in compliance with OSHA regulations and NFPA standards. Camfil APC compliance experts are ready to help.
APPLICATIONS THAT CAN CREATE DANGEROUS DUST
Electric arc wire (EAW) spraying
Flame spray powder or wire
Electric arc spraying
High-velocity oxy-fuel (HVOF) and high-velocity air-fuel (HVAF)
Plasma spraying
Vacuum plasma spray
Cold spray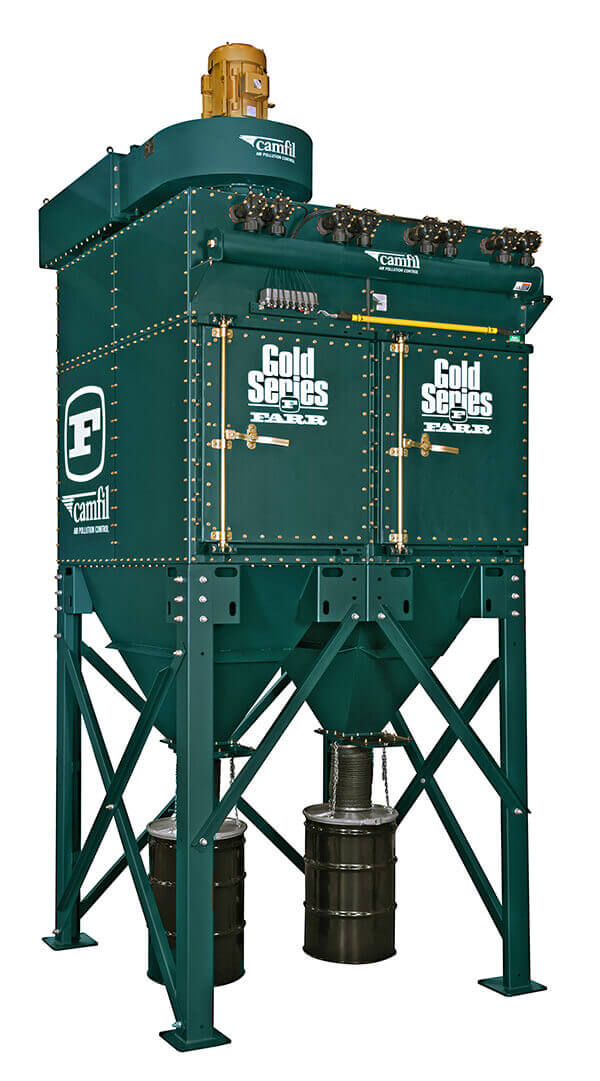 FARR GOLD SERIES® INDUSTRIAL DUST COLLECTOR
The modular Farr Gold Series dust collector was engineered to solve tough dust problems with a minimal footprint. Individual modules accommodate airflows up to 5,000 CFM each, providing a near-limitless variety of configurations that can be delivered in days instead of weeks. All FGS collectors feature heavy-duty carbon steel construction and thermal cured powder coatings for unparalleled strength and durability. 
It's crucial to gather the proper information when configuring a dust collector for thermal spray applications. There are many different types of processes and material coatings that will all react differently inside the dust collector.  Camfil APC experts are familiar with design considerations like airflow, negative pressure, loading, emission, air-to-cloth ratio, and filtration required to solve the toughest dust problems. Thermal spray applications are generally sized at a conservative air-to-cloth (A/C) ratio with HemiPleat® fire retardant cartridges.
Features
High-efficiency filters capture 99.99% at 0.5µ of the dust.
Gold Cone™ vertical cartridge technology that provides 25% more media for long service life.
Timer control module for automatic pulse filter cleaning based on differential pressure readings
Quick-open heavy gauge doors for fast access to the filter cartridge change-out system.
High entry cross flow inlet eliminates upward can velocities that hold fine powder in filters, reducing re-entrainment of the fine particles.
Abrasion resistant inlet configuration knocks most dust into the hopper before it gets to the cartridges.
Specially treated filter media repels fine particles, for lower pressure drop and long filter life.
LET US HELP YOU FIND A SOLUTION
Over the years, we tried several types of dust collection equipment on EAW spraying. However, all previous attempts at extended filter life (more than six months) failed until we installed a high efficiency "Farr Gold Series" cartridge collection system manufactured by Farr, Arkansas. At the time of this writing, the Farr Gold Series collector is still performing exceptionally well without a filter change after about a year and a half.

-David Drozd, Pamarco