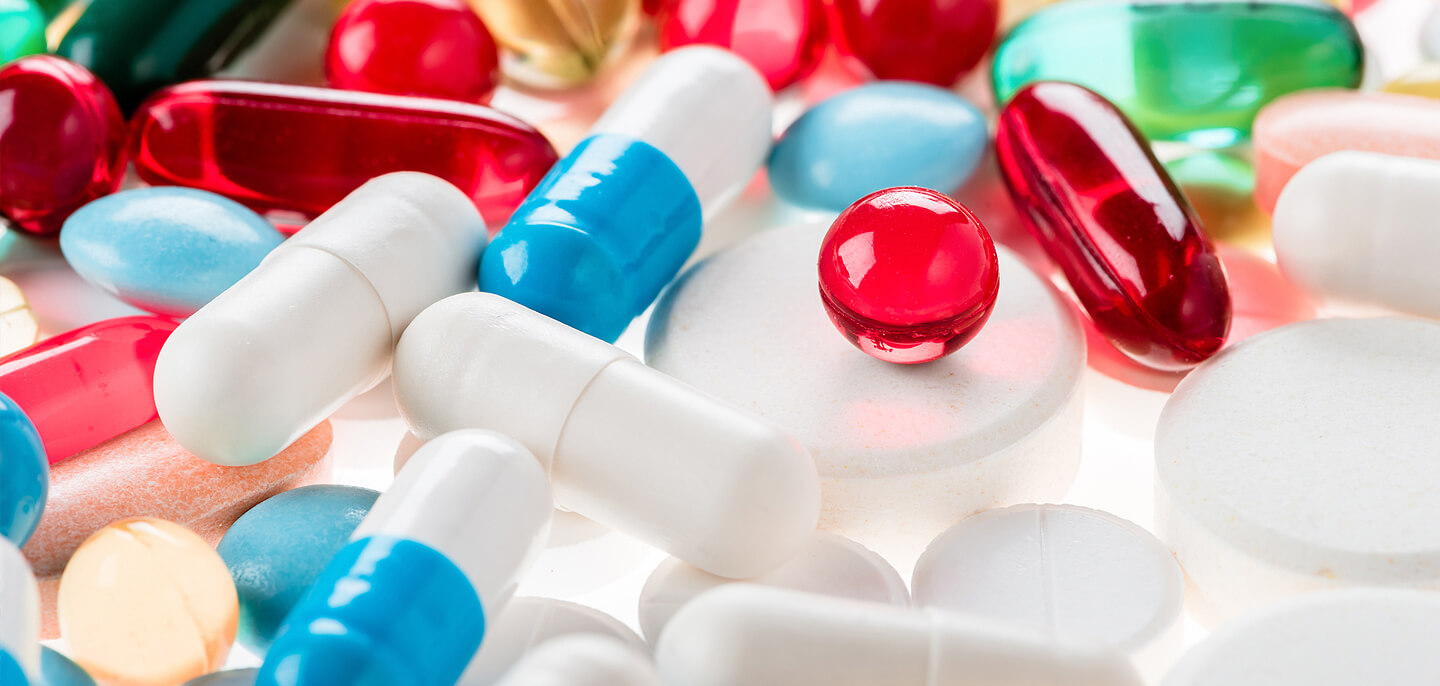 SAFEGUARDING AGAINST POTENT COMPOUNDS AND COMBUSTIBLE DUST INCIDENTS
Two concerns are critical when handling pharmaceutical dusts: Personnel exposure to potent, toxic or allergenic dusts, and the explosion properties of the dusts. Camfil dust collection experts understand the toxicological properties of dusts and potent compounds. We also know how to review the Occupational Exposure Limit (OEL), and can perform a risk-based exposure evaluation to determine the proper method of dust control. In most cases, we recommend a secondary HEPA system so that your facility can recirculate the filtered air back into the HVAC system. This can significantly reduce energy costs while providing the necessary level of filtration that the EPA requires for discharged air.
To safeguard against deflagration from combustible dust, your facility may require control measures such as explosion venting, chemical suppression, and isolation systems. Camfil APC will recommend these accessories if the Kst, Pmax, MIE and the dust collector location require them. We will make certain that the all explosion protection equipment satisfies the requirements and standards of NFPA, ATEX, local fire marshals and insurance carriers.
PHARMACEUTICAL PROCESSES THAT PRODUCE DUST
Tablet presses
Tablet coating
Fluid bed drying
Spray drying
Blending
Granulation
General room ventilation
House and high-vacuum systems

GOLD SERIES CAMTAIN®
Gold Series (GS) Camtain dust collectors are the industry's most durable and dependable, so they minimize production line stops. They can be used in a variety of pharmaceutical dust collection applications and are ideal for high-efficiency filtration that doesn't require product reuse. GS collectors exceed OSHA mandates for factory air quality, and when equipped with a Camfil explosion vent, they offer the highest explosion protection in accordance with NFPA and ATEX standards. The GS Camtain dust collection system has been independently surrogate tested for validated performance verification. Camfil APC has installed dust collectors in pharmaceutical manufacturing locations in North, South and Central America, Asia, and Europe.
Features
Bag-in/bag-out containment systems for both the filter cartridges and discharge system underneath the collector. The cartridge change uses the safe change filter replacement method while the discharge uses continuous liner technology.
Filter cartridges are sealed via an internal cam bar action, allowing convenient changeout through the safe change filter replacement system.
A high entry, cross flow inlet eliminates upward velocities that can hold fine particulates in the filter cartridges, reducing the re-entrainment of the particulate matter.
High-efficiency filters up to MERV 16 stop 99.99% of the dust at 0.5 microns
Specially treated filter media repels fine particulates for a lower pressure drop and longer filter life.
The Gold Cone® cartridge filter design provides 25% more media for long service life. HemiPleat® filter technology ensures uniform pleat spacing with synthetic beads that hold the pleats of the filter cartridge wide open.
Vertically arranged filters shed particles better than horizontal filters in heavy loading applications.
Supports traditional dust collection for nuisance dusts and fumes that do not require full isolation and containment.
LET US HELP YOU FIND A SOLUTION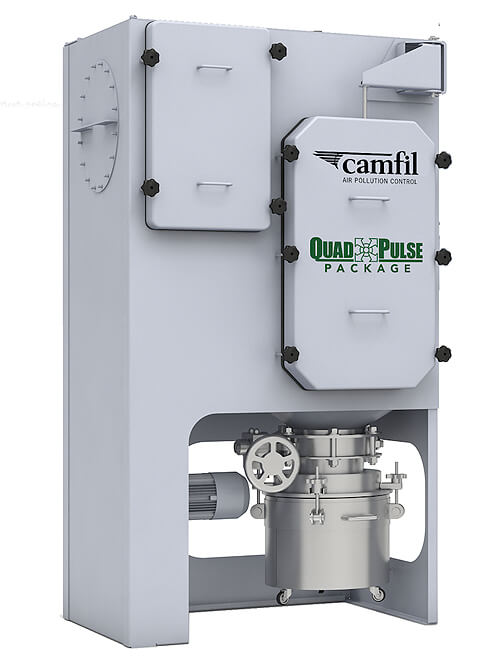 THE QUAD PULSE PACKAGE COMPACT DUST COLLECTOR
This small footprint dust collector can be positioned on the production floor or suite. It uses a segmented cleaning process to keep the primary filter cartridge operating continuously so manufacturing is not interrupted. The unit reduces energy costs by cleaning filters at low pressure. A secondary HEPA filter provides 99.995% filtration efficiency to capture the finest dust particles. The QPP also features pressure-resistant construction, built-in NFPA and ATEX-compliant explosion protection, integrated fan, quiet operation and bag-in/bag-out filter change-out option.
Features
Economical, space-saving cleaning unit requiring just a single primary filter cartridge
Cleaning during operation for production process and product quality control
Efficient segmented design allows cleaning with low pressure to further reduce noise and back pulsing
Low pressure drop across the filter for energy cost savings
Camfil's pleated filter technology provides exceptional dust release, enabling extended filter service life and reduced filter replacement
LET US HELP YOU FIND A SOLUTION