DeltaWing Manufacturing is a leading manufacturer of tooling and components for a variety of different industries, most notably Aerospace, OEM automotive and motorsport. Processes and materials worked with include composites manufacturing, carbon fiber and fiberglass components as well as machining and metal fabrication.
DeltaWing expanded their business by adding a five-axis router housed in a separate building from the rest of operations. The five-axis router is a very large volume machine which, as the name implies, operates on five axes instead of the industry norm of three. This allows DeltaWing Manufacturing to produce products that you just can't get any other way. This is what makes this high end, highly functional addition to DeltaWing capabilities stand out. The head of the machine can rotate and tilt which allows production of complex five-axis geometry on large scale parts and patterns for tooling.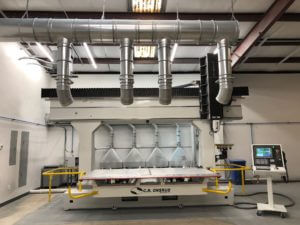 The whole DeltaWing philosophy is that quality product and safe, clean manufacturing facilities takes on equal roles which translates into a quality focused company to work with. That all can be summed up in this statement by Kevin Bialas, Vise President of Manufacturing "when you bring potential customer into your facility, if your facility is clean, organized and orderly that gives prospective customer a greater sense of, hey if this is how they look after their own facility and their own equipment this is how they are going to look after my parts that they are manufacturing. If you go into a shop that's dirty and disorderly, well then you get the opposite effect."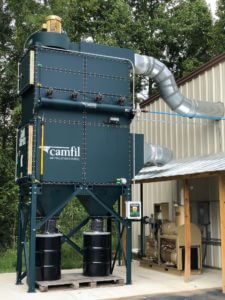 DeltaWing has two competitor dust collectors, but in this case they chose the Camfil APC Gold Series GS8 dust collector. This is their first Gold Series unit. This unit was purchased exclusively to handle the five-axis router added to the DeltaWing facility production line. "The Gold Series provides the cleanest working conditions and safest air for employees. The Gold Series unit was purchased based on performance and price of the equipment was competitive as well. Andy Thomason was very helpful throughout the entire installation process from a customer service standpoint we were very happy. It's been an all-around good experience." Stated Kevin Bialas, DeltaWing Manufacturing.
Client Name
DeltaWing Manufacturing Braselton, GA
Application
5-Axis Industrial Router Dust