As the leading supplier of quenched and tempered steels to the Australian domestic and Southeast Asian regional markets, Bisalloy Steel strives to provide customers with a superior level of supply and availability through their local BISPLATE manufacturing, BixExpress warehouse hubs, and distributors.
For over 30 years, Bisalloy Steel has supported the global mining, building, infrastructure and defense industries. In order to produce the best steel for these industries, abrasive blasting is required to treat the plate steel with scale removal by using manganese steel pellets. During this process, abrasive blasting dust is produced.
"Fine, abrasive metallic dust [is produced] in the breakdown of the scale and the pellets," Rob Mace, Maintenance Supervisor of Bisalloy Steel, said.
Manganese is an ore in base metals and can be mixed with iron dust to make steel. Metallic dust tends to be odorless but can be exposed to people through inhalation, ingestion, skin or eye contact. Metallic dust can cause coughing, breathing difficulty, wheezing, decreased pulmonary function, weight loss, asthma and other health concerns.
"The Granowski blast unit requires dust extraction as a result of the process it performs," Mace said. "The original dust extraction unit that was supplied [with the blast unit] underperformed and was undersized and poorly designed."
Nick Grapsas with Camfil APC worked with Mace and Bisalloy to retrofit the preexisting piece of equipment for the material type and abrasiveness to be extracted.
"The dust collector on-site that was installed with the original equipment was undersized and blocking up constantly," Grapsas said.
The Gold Series industrial dust collector was installed with an upsized fan that ran 15,000 CFM rather than the 12,000 CFM that was originally installed with the Granowski. An abrasion resistant (A/R) inlet was also installed with the Gold Series to avoid the blast media altering the dust collector.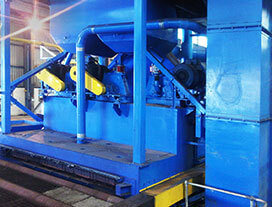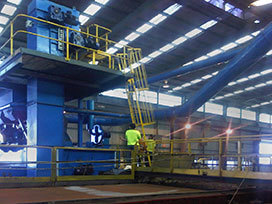 Bisalloy Steel's GS32 was sized with a fan that runs 15,000 CFM rather than the original 12,000 CFM on the former, undersized dust collector.
"The process going through the dust collector is steel shot blasting so the upsized fan and A/R inlet provided longevity for the [Gold Series]," Grapsas said. Industrial packaging bulk bags are installed at the base of the unit for materials handling. The bags are easily accessible and an easy way to cart waste or materials away.
In addition, the predicted life of the filters between changeouts also impressed Bisalloy.
"The filters lasted for 18 months," Grapsas said. "And Bisalloy was ecstatic. The previous dust collector's filters were only lasting six weeks."
Client Name
Bisalloy Steel