The dust & fume collection solution for your application
Applications:
Metalworking – Abrasive blasting, laser & plasma cutting, thermal spray, welding
Pharmaceutical – Tablet coating, tablet pressing
Food & beverage – Seed processing, cereals, spices, grains, flours, starches
Chemical processing – Plastics, paper, fiberglass, other composites
Mining – Copper, rock crushing, venting of storage, excavating.
Key Features:
Modular construction to easily allow customization
Heavy-duty carbon steel construction for long life
Vertical design provides more efficient pulsing of high dust loads
Quick open doors for easy and safe maintenance
High entry inlet with cross flow reduces upward can velocities, allowing gravity to aid in collection
Utilizes the smallest floor space of any dust collector available today
The Farr Gold Series Industrial Dust Collector is designed to rid your work environment of hazardous and nuisance dust and fumes. Constructed from heavy-duty carbon steel to meet the demands of your application, the Farr Gold Series has unparalleled strength and life compared to the competition. Baked-on, durable powder coat paint ensures your Farr Gold Series looks as good as the day you bought it, even after years of heavy use. Coupled with Gold Cone™ vertical cartridge technology, the Farr Gold Series offers superior pulsing of high-loading dust while simultaneously utilizing the smallest floor space of any dust collector available today.
Fly Through the Farr Gold Series
Maintenance is a breeze with the Farr Gold Series Industrial Dust Collector. Simple, quick-open heavy gauge doors provide lightning-quick access to the filter cartridge changeout system. A system that does not require any entry into the collector means you stay clean and clear of any risks. An interchangeable easy-access door ensures reduced downtime, while a mechanically attached seal improves performance and reduces the risk of particles getting back into the workspace. Patented cam bar action positively seals Gold Cone cartridges in your Farr Gold Series, ensuring trouble-free changeouts when cartridge replacement is necessary.
The modular design of the Farr Gold Series means maximum flexibility and customization for your specific work environment. Individual modules accommodate airflows up to 5,000 CFM each, providing a near-limitless variety of configurations. Custom configuration means no more wasted power along with valuable floor space savings. Order exactly the collector you need for your specific application and have it delivered fast.
Easy Maintenance
Simple, quick-open heavy gauge door(s) provide access to a super-fast cartridge changeout system that does not require entry into the collector. The door is fully reversible for access from either side and has an exclusive lock-out feature for worker safety.
Benefits:
No knobs to lose or drop
No threads to bind
Mechanically attached seal
Heavy 10 gauge construction
The cambar system allows faster, trouble-free changeout of the filter cartridges. For an even easier option, Camfil APC offers service and preventive maintenance contracts that include an onsite system survey and filter changeouts.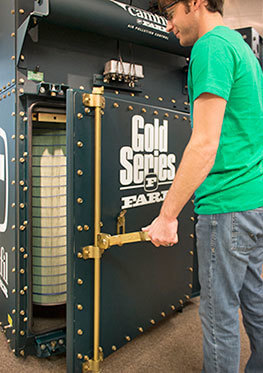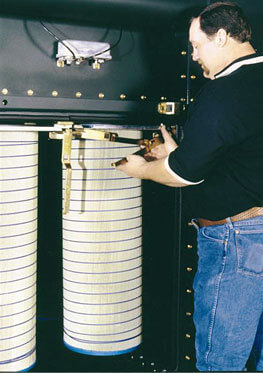 Options
Explosion venting
Rotary airlock
Drum cover kit
Clean air chamber access
Custom colors
NEMA 7/9
Solenoid enclosure
Compressed air regulator
Leg length
Solenoid heater
Outlet weather hood
Extra cartridge access door
Hopper access door
Skid packages
Stinger explosion protection valve
Sprinkler system
Dust level indicator
Dustbin with drawers
Common trough hopper
Low Pro/Low Boy hoppers
Stainless steel construction
Various inlet designs
Platform and ladder
Self-dumping hopper
Screw conveyor
Integrated safety monitoring filter (iSMF)
Pharmaceutical options
Customization for specific applications
Overbags for fibrous dusts like paper and fiberglass
Model Configurations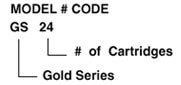 Farr Gold Series offers modular design for maximum flexibility. Have it your way fast! Each module accommodates airflows up to 5,000 cfm each. Component configurations are virtually unlimited. Standard Farr Gold Series model configurations are GS2, GS4, GS6, GS8, GS10, GS12SQ, GS16, GS16L, GS18, GS20, GS24, GS32, GS36, GS40, GS48, GS48L, GS56, GS60, GS72, GS84, GS96, GS108, and GS120, but any size configuration can be obtained.






Large or pyramid single point discharge hoppers are available, as well as trough and custom angle configurations. For a larger view of the above diagram, please download the product bulletin.