Washable Spunbond Filters
Washable & reusable
Rated up to MERV 16 per ASHRAE 52.2:2007
Handles difficult dusts
Exceptionally long life
Double seal gasket for fewer leaks and easier filter changes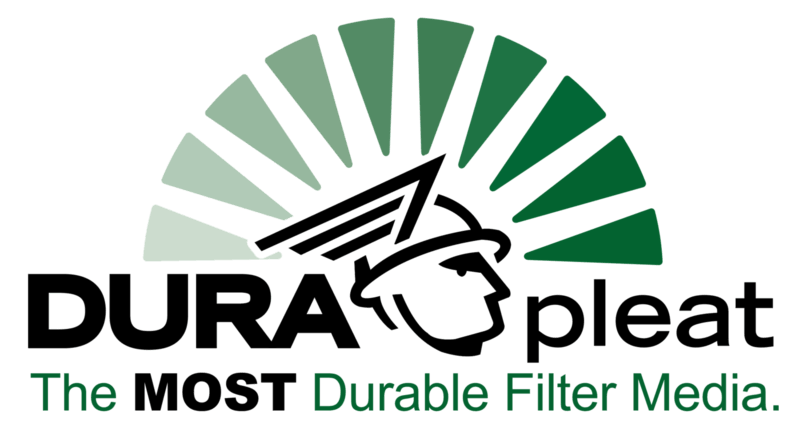 Dura-Pleat filter cartridges are made with 100% spunbond polyester media in a pleated design. This combines the advantages of high efficiency pleated media and the versatility of synthetic materials.
Best for Tough Applications
This medium temperature cartridge is ideal for operating temperatures from 160°F (71°C) to 250°F (121°C).  It is well-suited for applications that have abrasive dust or are hot and dry such as pulverization and drying systems, cement dust, fertilizer production and torch cutting. Dura-Pleat filter cartridges are ideal for applications that .
Media Options
DPS - Dura-Pleat
Our spunbonded, heavy-duty, all-purpose polyester media.
DPA - Aluminized
Our Dura-Pleat media with a conductive aluminized finish applied for static dissipation.
DPO - Hydro-Oleophobic
Our Dura-Pleat media coated with an oil and water repellent finish.
DPT - PTFE
Our Dura-Pleat media with a laminated polytetrafluoroethylene (PTFE) membrane for very high efficiencies of fine particulate and superior dust cake release.
Genuine Camfil Filters Offer:
Double seal gasket
Added insurance against leaks
No dust settles on top of the filter
Built-in handles
Ergonomic removal and replacement
Washable media
Durable and reusable media