Smart Solenoid Controller for Industrial Dust Collectors
Key Features:
4 analog and 6 digital inputs
Voltage monitoring for phase and power irregularities
Current monitoring for power consumption
Analog output (1) for remote pressure monitoring or pass through of analog input
Relay outputs: 4 outputs to operate remote alarms
Ports: 1 USB, 1 RS232, 1 RS485
Data logging of system performance
Solenoid connections only require two wires regardless of the number of solenoids
Multiple languages and units
Flat menu structure allows quick access to view and change parameters
Simplifies Pulse Cleaning of Filters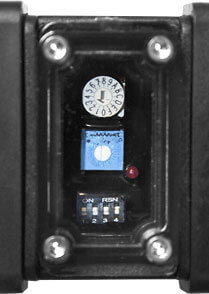 The cost-saving Smart Solenoid STR Controller is for applications where dust collector filters are pulse-cleaned based on timed intervals. The timer controls that regulate pulsing are embedded within the solenoids, eliminating the need to wire a remote timer board to the solenoid tray.
"On" and "off" cycles are easily adjusted through dials integrated into the solenoid tray. Factory settings are 150 milliseconds "on" time with a 30-second "off" cycle between pulses. The device is provided with multiple solenoid valves which vary from two to six.
The controller is certified according to European normative ATEX (94/9/EC) Category II 3D and may be used with any type of cartridge dust collection system that utilizes diaphragm valves.