Applications:
For pulse-jet style industrial dust collectors
Key Features:
NEMA 4X enclosure
Clear, permanent user instructions right on the box
Controls pulsing based on filter pressure differential so filters get cleaned only when needed, saving compressed air (energy) and extend filter life
UL tested and listed
CE tested and listed
110/220V, 50/60Hz, 1 phase power required
External Outputs: High pressure alarm and 4-20 mAmp signal for liner pressure readout.
User Friendly Controls for Dust Collectors
The GSX Controller's flexible design allows it to be adapted to many industrial dust collector configurations. The Timer Control Module will sequentially pulse up to ten outputs in "On-Demand" mode, based upon the Pressure Switch closure on the Pressure Differential Meter. If more output capability is needed, up to 980 additional outputs can be controlled with multiple Expander Modules connected to the controller. Furthermore, the controller features a current sensing capability, which allows electrical fault monitoring for up to three solenoids per output. This capability makes it possible to control and monitor up to 2,970 individual solenoids from one Control Module, and has the added convenience of providing an Auto Configuration option for ease in initial setup.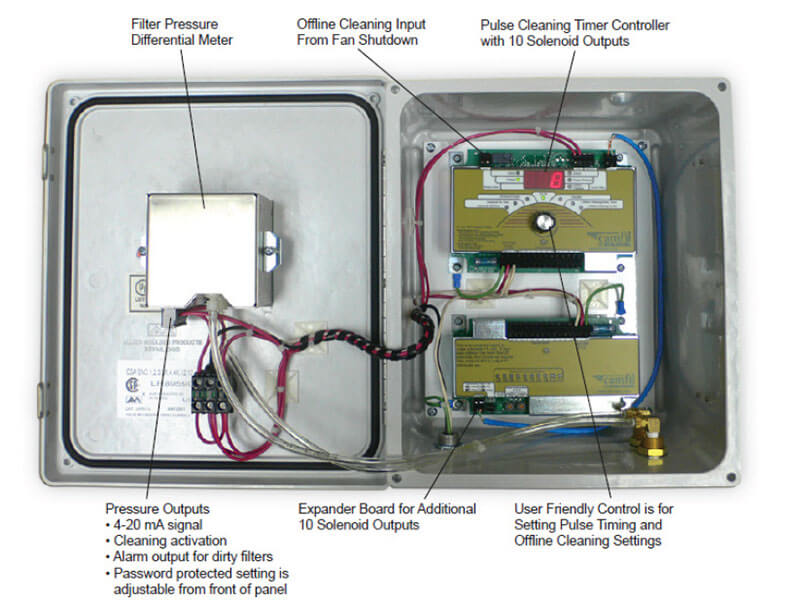 The Pressure Differential Meter is a digital/bar graph differential pressure (ΔP) control meter, and is designed to interface with the Timer Control Module. The Pressure Differential Meter is capable of measuring differential pressure and displaying that value in both analog bar graph and digital displays. Both Hi/Lo Cleaning and Hi Alarm set points can be programmed.
The Expander Module is the expansion output module in the GSX Controller. The Expansion Module operates in conjunction with the Core Timer Controller with up to 98 unique address expansion boards for a total of 990 outputs.
Additionally, the simple five step intuitive programming procedure makes it easy to setup or change any program item. Using a single Pushbutton/Encoder along with 19 LED's and a 3-digit display, the programming procedure can be self-taught in less than one minute.
Following is a list of the user programmable Controller functions:
Cycle Down Mode
Solenoid Pulse Times
Auto or Manual Output Configuration
Run/Standby Mode
Pressure Control Set Points
Pressure Alarm Set Points
Solenoid Fault Alarm Contact Configuration (N.O. or N.C.)
Output Pulsing Options
A universal input power supply lets you apply nominal input voltage ranging from 100 to 240 Vac, 50/60 Hz to the controller, and the supplied voltage will be correspondingly switched to the outputs.