HemiPleat® Synthetic Dust Collector Filter
What is HemiPleat Synthetic?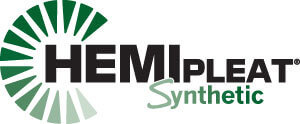 Camfil APC has brought together two of its proven technologies to produce a dust collector filter with an efficient hybrid media suitable for harsh humid environments and capable of maintaining long life. This NEW media offers all the advantages of HemiPleat technology with the durability of Dura-Pleat® media.
HemiPleat Synthetic is a lightweight 100% spun bond polyester media in a pleated design that maximizes surface area while maintaining open pleat spacing. The wider spacing of the HemiPleat design exposes more media to the airstream which results in lower pressure drop and improved dust release during pulse cleaning. The lightweight polyester design promotes an increase in filtration surface area at no added cost when compared to the Dura-Pleat filter.
Sturdy and durable, this media is moisture-resistant and is not affected by harsh humid environments in operating temperatures of 160 degrees Fahrenheit or less. This washable media may be reused in many applications.
Key Benefits of HemiPleat Synthetic
More media available for filtration, resulting in improved performance and longer life.
Washable media that is moisture-resistant.
Ideally suited to tough applications, including heavy dust loading conditions and/or hygroscopic dust properties as seen in the food and pharmaceutical industries.
State-of-the-art pleating technology is the key to the HemiPleat's superior performance. Techniques used to manufacture the media packs of this cartridge are unique, patented, and have never been applied to a cylindrical industrial dust collection filter before. Synthetic beads hold the pleats of the cartridge open with wide pleat spacing not found in competitor cartridges, which are packed too tightly to maximize media use.
HemiPleat Synthetic is also available with eXtreme nanofibers applied. The eXtreme layer acts like a prefilter to the base media and doesn't allow most dust particles to "depth load" (or embed in the media). Most of the dust is captured at the surface of the media because the pores on the eXtreme media are so small. This "surface loading" is what increases the filter's cleaning ability, which in turn extends filter life.