Dust Collector To Safely Remove Toxic and Combustible Dusts From Your Factory or Shop
The Gold Series X-Flo (GSX) industrial dust collector is the industry's best-in-class dust collection/fume collection system. It's built on 20 years of successful performance of our award-winning Gold Series system. It handles all kinds of toxic and combustible dusts, smoke and fumes, including fine, fibrous and heavy dust loads. GSX industrial dust collectors effectively process dust while maintaining a low pressure drop. You get the maximum airflow and dust processing power for any given footprint.
GSX industrial dust collector uses crossflow technology and a unique baffle configuration to create a uniform airflow that extends the life of your filters. Filter cartridges last longer and require fewer changeouts, reducing the total cost of ownership. They exceed OSHA mandates for factory air quality, and when equipped with a Camfil explosion vent, they offer the highest combustible dust explosion protection in accordance with NFPA and ATEX standards.
Key Features of the X-FLO Industrial Dust Collector
MODULAR DESIGN
It's easy to customize the GSX industrial dust collector for your specific work environment. Individual modules accommodate airflows up to 6,000 CFM each, providing a near-limitless variety of configurations. You get fast delivery of a system that is just right for your application and space. It's ideal for collecting dust from the manufacturing and processing of dry bulk powder.
MORE FILTER MEDIA, SAME FOOTPRINT
We designed the inlet, filter cartridges and filter position so each housing module can accommodate larger cartridges without increasing the overall footprint. Each module holds four cartridges of HemiPleat® filter media and maintains a low pressure drop.
GOLD CONE™ X-FLO FILTERS
X-Flo filter cartridges feature proprietary HemiPleat Gold Cone™ filters that stay cleaner and last longer than conventional pleated filters. Gold Cone X-Flo cartridges use our proprietary Gold Cone inner pleat pack. This open-bottomed, inner cone of media greatly expands the usable surface area of the cartridge. HemiPleat technology is our unique approach to creating highly efficient pleated filter media that exposes more media to the airstream, so more dust is loaded on the filter and then released when pulse-cleaned.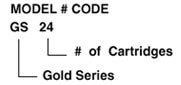 The Gold Series X-Flo industrial dust collector offers modular design for maximum flexibility. Have it your way fast! Each module accommodates airflows up to 6,000 CFM each. Component configurations are virtually unlimited. Standard model configurations are GSX2, GSX4, GSX6, GSX8, GSX10, GSX12SQ, GSX16, GSX16L, GSX18, GSX20, GSX24, GSX32, GSX36, GSX40, GSX48, GSX48L, GSX56, GSX60, GSX72, GSX84, GSX96, GSX108, and GSX120, but any size configuration can be obtained.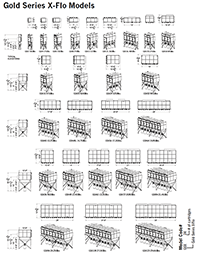 GOLD SERIES CONFIGURATION CHEAT SHEET
Explosion venting
Rotary airlock
Drum cover kit
Clean air chamber access
Custom colors
NEMA 7/9
Solenoid enclosure
Compressed air regulator
Leg length
Solenoid heater
Outlet weather hood
Extra cartridge access door
Hopper access door
Skid packages
Stinger explosion protection valve
Sprinkler system
Dust level indicator
Dustbin with drawers
Common trough hopper
Low Pro/Low Boy hoppers
Stainless steel construction
Various inlet designs
Platform and ladder
Self-dumping hopper
Screw conveyor
Integrated safety monitoring filter (iSMF)
Pharmaceutical options
Customization for specific applications
Overbags for fibrous dusts like paper and fiberglass
Industrial Dust Collector
Schedule a demo of our X-Flo Industrial Dust Collector
Case Studies featuring Gold Series and Gold Series X-Flo