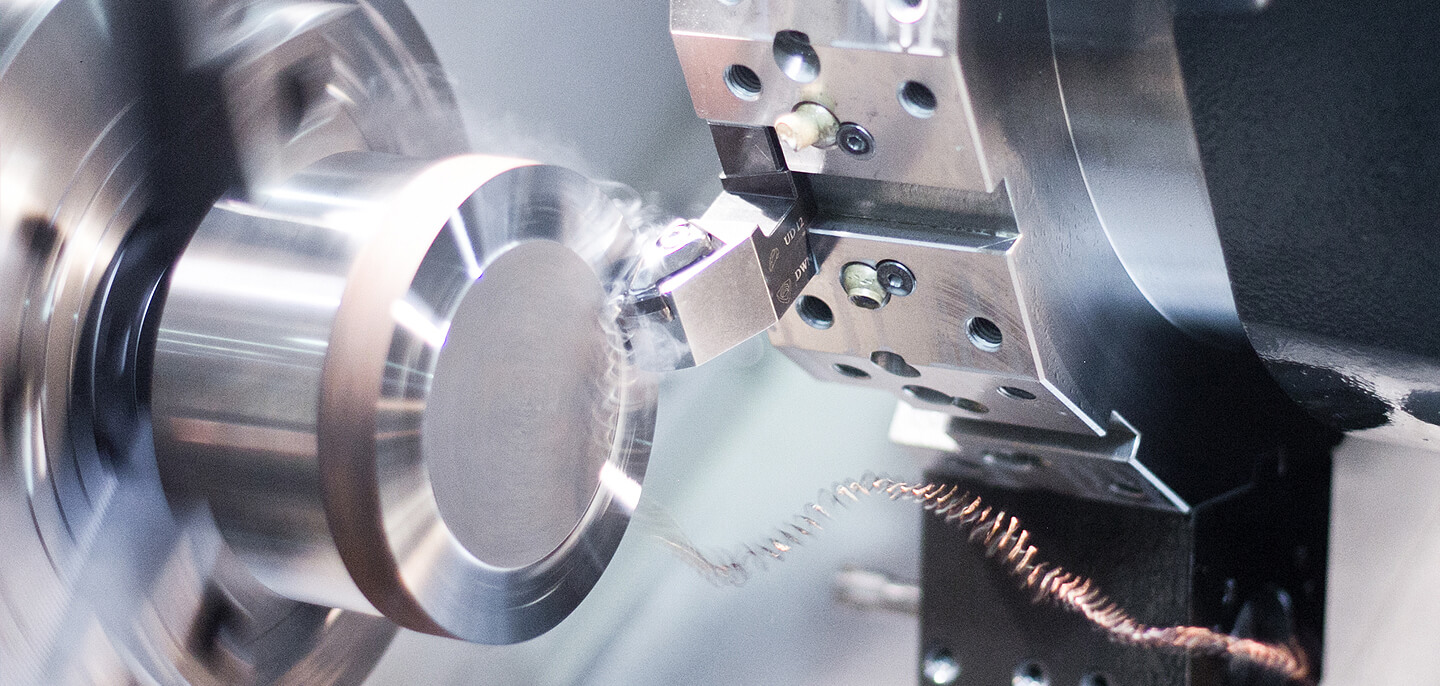 SAFELY CAPTURE AIRBORN OILS AND COOLANTS
The metalworking fluids (MWF) commonly used during machining processes—oils and coolants—generate mists in the work environment. These airborne contaminants must be carefully controlled to prevent worker accidents and health problems and to ensure compliance with OSHA, NIOSH and ACGIH regulations.
Oily floors are a slipping hazard. Toxic vapors are a health hazard. Left unchecked, machining mist will be inhaled by machine operators, build up on shop floors and surfaces, and ruin equipment, electronics, and machined parts. Oils and coolants also create a dirty and unpleasant work environment if they are not filtered from the air before they settle.
Mist collectors mitigate all of these hazards by safely removing oils and coolant at their source or from the air before they are inhaled or settle in the workplace. Your workers' health and safety depend on the effective collection of all coolant mist aerosols, vapors, and fumes generated in your machining center.
Choosing the right mist collector for your shop can seem daunting. At Camfil APC, we strive to remove that complexity to solve your mist collection problems. Our friendly team of experts is always ready to chat and answer your questions and concerns.
Health Hazards of Metalworking Fluid Mists
Respiratory disorders - The respiratory tract and mucous membranes become inflamed, leading to asthma, chronic bronchitis, and hypersensitivity pneumonitis.
Skin problems – Prolonged exposure can cause contact dermatitis and skin irritation.
Cancer – Exposure to carcinogens can cause pancreatic, colon, bladder, and liver cancer and tumors in the brain, respiratory organs, and digestive tract.
Allergies– Prolonged contact can cause allergic contact eczema or bronchial asthma.
Nerve damage – Exposure to toxins can cause impact organs and nerves.
Regulations for Metalworking Fluid Emissions
OSHA - The Occupational Safety & Health Administration uses two air contaminant permissible exposure limits (PELs) for MWFs:

5 mg/m3 for an 8-hour time-weighted average (TWA) for mineral oil mist
15 mg/m3 for an 8-hour TWA for Particulates Not Otherwise Classified
NIOSH - The National Institute for Occupational Safety and Health has set a much stricter recommended exposure limit (REL) for MWF aerosols. They must be limited to 0.4 mg/m3 for a 10-hour TWA for a 40-hour work week concentration for thoracic particulate mass (the fraction of inhaled particles capable of passing beyond the larynx during inhalation).
ACGIH – The American Conference of Governmental Industrial Hygienists has set two threshold limit values for mineral oils:

5 mg/m3 for an 8-hour TWA
10 mg/m3 for a 15-minute short-term exposure limit
Features and Benefits of Handte Mist Collectors
99.95% collection efficiency - Optimized, flow-engineered multistage designs provide high separation performance. Different filter materials handle specific droplet spectrums.
Modular design – Collectors can be quickly installed in dozens of capacities and configurations. Standard models with different air capacities can be combined in a large central system.
Innovative filter media – Our standard filter material self-cleans by optimizing drainage of the separated coolant.
Easy filter changeout – Mist collectors operate practically maintenance-free, and filter changes don't require tools.
Unparalleled cost-effectiveness – All collectors operate safely and are durable enough to provide long maintenance intervals.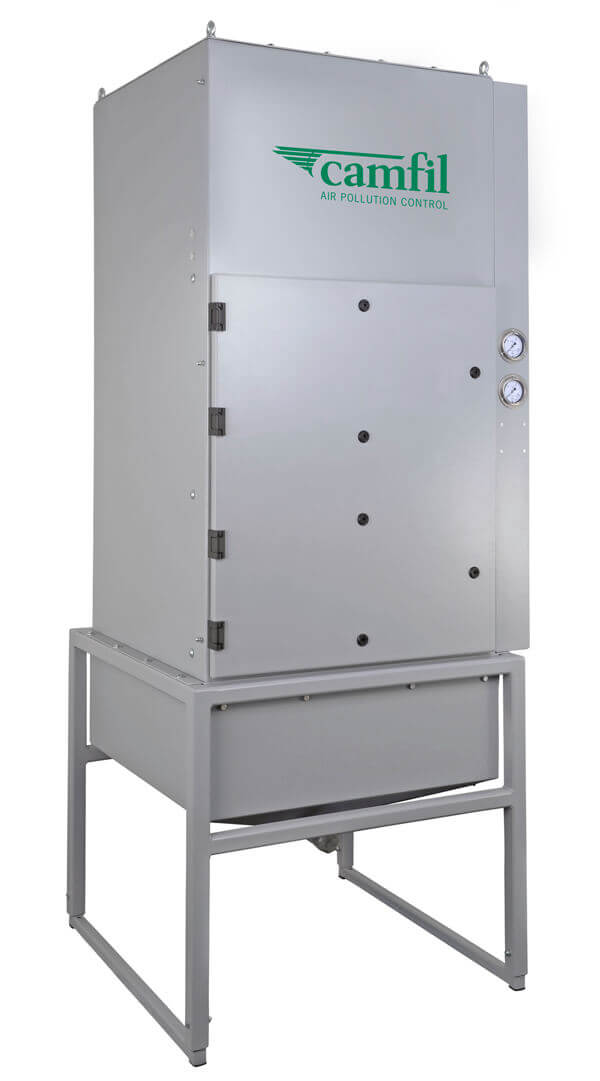 HANDTE EM PROFI MIST COLLECTOR
The Handte EM Profi emulsion/coolant mist collector offers the highest available collection efficiencies plus the ability to run 24/7 for reduced maintenance, service ease, and lower operating costs. The unit can handle the heaviest loads encountered in the industry to clean up contaminants generated during milling, drilling, tapping, turning, grinding and other machining processes that utilize emulsion mist coolants.
Features
Self-cleaning
Automatic sprayer system reduces filter buildup
Corrosion-proof and washable two-stage filtration system
No leaks – guaranteed!
Easy maintenance
Multi-stage Filtration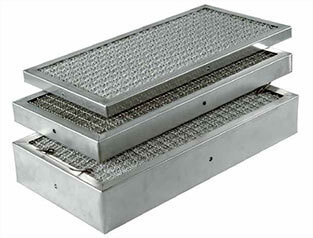 We consistently achieve high separation performance by designing our filter materials to meet specific needs or to handle a given droplet spectrum. We do this through optimized, flow-engineered, multi-stage design:
SELF-REGENERATING SEPARATION STAGES – Self-regeneration is achieved by using high efficiency, stainless steel woven mesh filters located at a slight angle within the units. This combination provides optimum separation efficiency and drainage.
FINAL FILTER – Final safety HEPA filters are 99.97% efficient on .3 micron and larger particles.
SIMPLE SETUP – Handte EM Profi units are modular for capacity/sizing and customizable with many optional accessories.
User-Friendly
The Handte EM Profi is extremely easy to maintain. Large service doors and quick-lock latches make it possible for a single technician to easily perform installation and removal from the floor, eliminating extra manpower and lift equipment. Service life between changeouts is up to six years for mist separation filters and two years for HEPA filters. Large maintenance doors and quick-clamping elements facilitate fast, toolless filter replacement. Due to these features, Handte EM Profi collectors offer substantial savings through reduced downtime, longer changeout cycle intervals, and increased productivity and reliability.

Modular Design
Minimum space requirement, maximum performance
System can be expanded in the future as needed
Short delivery time
Easy transport and installation
Basic Modules
Ground/platform versions with optional return pump station (for recirculating separated fluids)
Filter module (contains main and final filter)
Connection box for use with an external fan. The connection can be on left, right or rear side.
Built-in fan in compact design enclosure with integrated sound insulation
Top-mount fan
Models/Air Volume
3.0/1,700 CFM
4.5/2,600 CFM
6.0/3,500 CFM
9.0/5,300 CFM
13.5/8,000 CFM
Worker safety, production efficiency, and capital equipment protection cannot be compromised. Got a problem with oil mist? Call in the emulsion professional—the Handte EM Profi.
LET US HELP YOU FIND A SOLUTION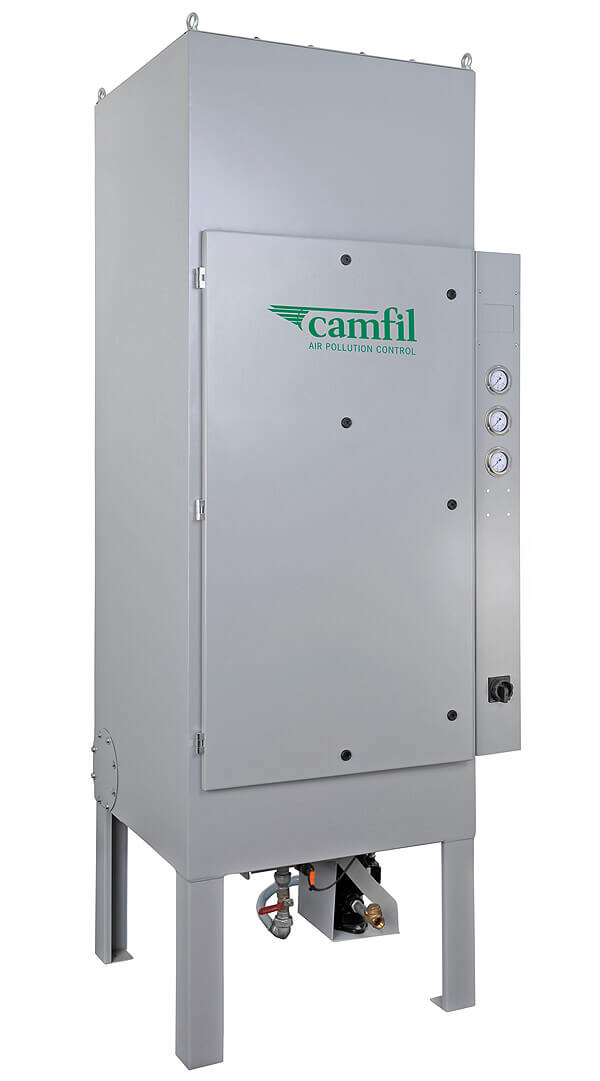 Handte Oil Expert for Machining Oil Mist Problems
This mist collector efficiently separates ultra-fine cooling liquid mists and fumes. With advances in technology, machine tool productivity and accuracy continues to improve. As a result, there is increased need to capture ultra-fine mists and fumes to comply with workplace exposure limit to ensure worker safety, production efficiency, and protect capital plant and equipment. The Handte EM Expert provides optimum results even under the most challenging conditions.
Features
Highly efficient, multi-stage filtration with collection efficiencies at 99.97% on 0.3 micron and higher particle size
Flexible and modular design with plug-and-play delivery
Multiple units can be combined for any size application
Self-cleaning filtration media
Long filter life with minimal maintenance
Optional HEPA filter
24/7 operation
Airflow can be adjusted without affecting the collection efficiency
Option to recirculate clean air for reduced energy use
Innovative System Design
Cascade collector design with ascending filter classes allows filter combination matching for the specific machining process.
FAN
Integrated or top-mount fans provide reliable, constant extraction power to meet the application requirements. With integrated fans, acoustic insulation is included in the housing. The units are delivered ready for plug-and-play without any additional assembly required at the installation.
FLUID RETURN
Due to the self-regeneration design of the filter elements, the separated cooling lubricant is released from the filter media and drains to the fluid return sump at the base of the unit. Through either a recirculation pump or siphon, the collected coolant can be returned for treatment, reuse or disposal.
FILTER CASSETTE WITH MEDIA SEPARATORS FOR MAXIMUM FILTER AREA - The CoaPack filter element provides maximum filter area within a compact design. This construction ensures a uniform flow, optimum use of diffusion and coalescence, which is a relevant separation mechanism for ultra-fine mists. The small load acting on the filter surface reduces the energy consumption and significantly increases the service life of the filter element.
IDEAL DRAINAGE PERFORMANCE FOR OPTIMUM FILTER REGENERATION
The premium filtration effectiveness of the Handte Oil Expert is due to the ideal balance between separation performance and regeneration of the separated cooling lubricant from the filter media. This is achieved by using drainage-friendly materials together with special drainage support mats, protective screens, and spacers.
CLEAN MAINTENANCE, EASY FILTER CHANGE
Thanks to its functional design, the Handte Oil Expert is practically maintenance-free. Quick-acting clamps ensure that changes of the filter cartridges are easy and require no tools, ensuring minimum downtime. Filter cartridges are accessed via the service door(s) and a transport trolley is available, providing drip-free removal of the filter cartridges—a perfect complement to our service concept.
Basic Modules
Top Element Modules
1. Connecting box - For use with an external fan. For optimum flexibility, the ductwork to the external fan can be connected to either side.
2. Integrated fan - A high-grade fan with a compact design and integrated noise insulation
3. Top mount fan - For use in connection with a downstream silencer.
HEPA Final Filter
4. Final filter stage - Available as an option for particulates less than 1 micron, such as smoke, and to recirculate the air.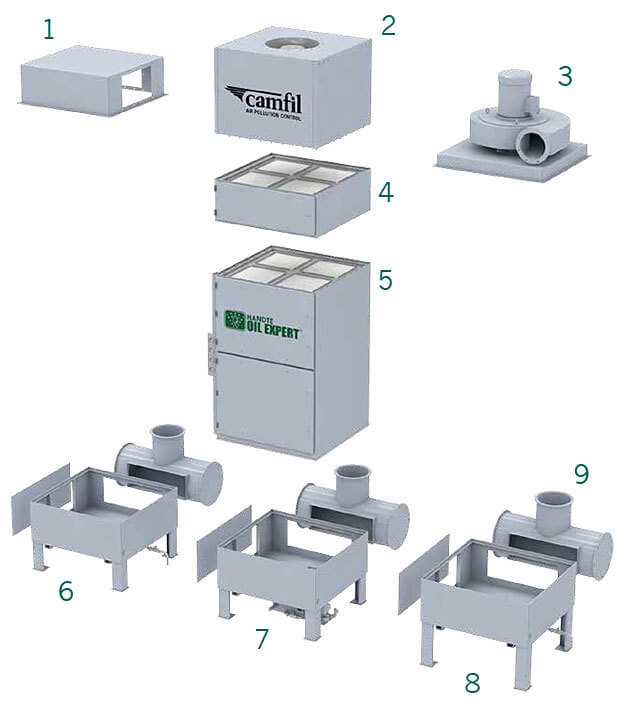 Main Filter Stage Module
5. Main filter stage
For CoaPack diffusion filter cartridges and optional use of a coarse filter stage for high contamination or clean air recirculation.
Bottom Element Modules
6. Fluid collector for installation on platforms. Vertical cooling lubricant discharge via siphon or gravity.
7. Fluid collector with recirculation pump station - Use if discharge by gravity is not feasible or for feeding into the cooling lubricant recirculation supply for the machine tools. Integrated pumps are available in two sizes.
8. Fluid collector for floor installation - Discharge of the cooling lubricant through a siphon and by gravity.
9. Compact dirty air transition for connection to circular pipes.
Customizable to Fit Your Needs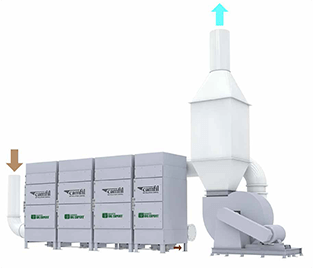 By combining different basic modules, it is possible to design economically efficient central extraction systems of 41,000 CFM and more.
Component design flexibility for customized application
Minimum space requirement, maximum performance
System can be expanded in the future as needed
Short delivery time
Easy transport and installation
Got a problem with oil mist? Call in the Handte Oil Expert.
LET US HELP YOU FIND A SOLUTION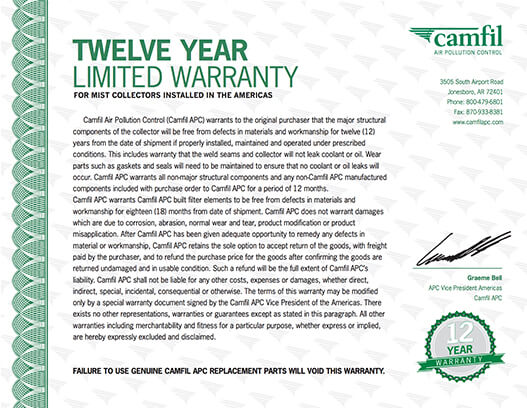 Guaranteed No Leaks
German engineering and American manufacturing expertise result in premium quality products. We guarantee that our mist collectors will not leak. 
Download our 12-year limited warranty for details.