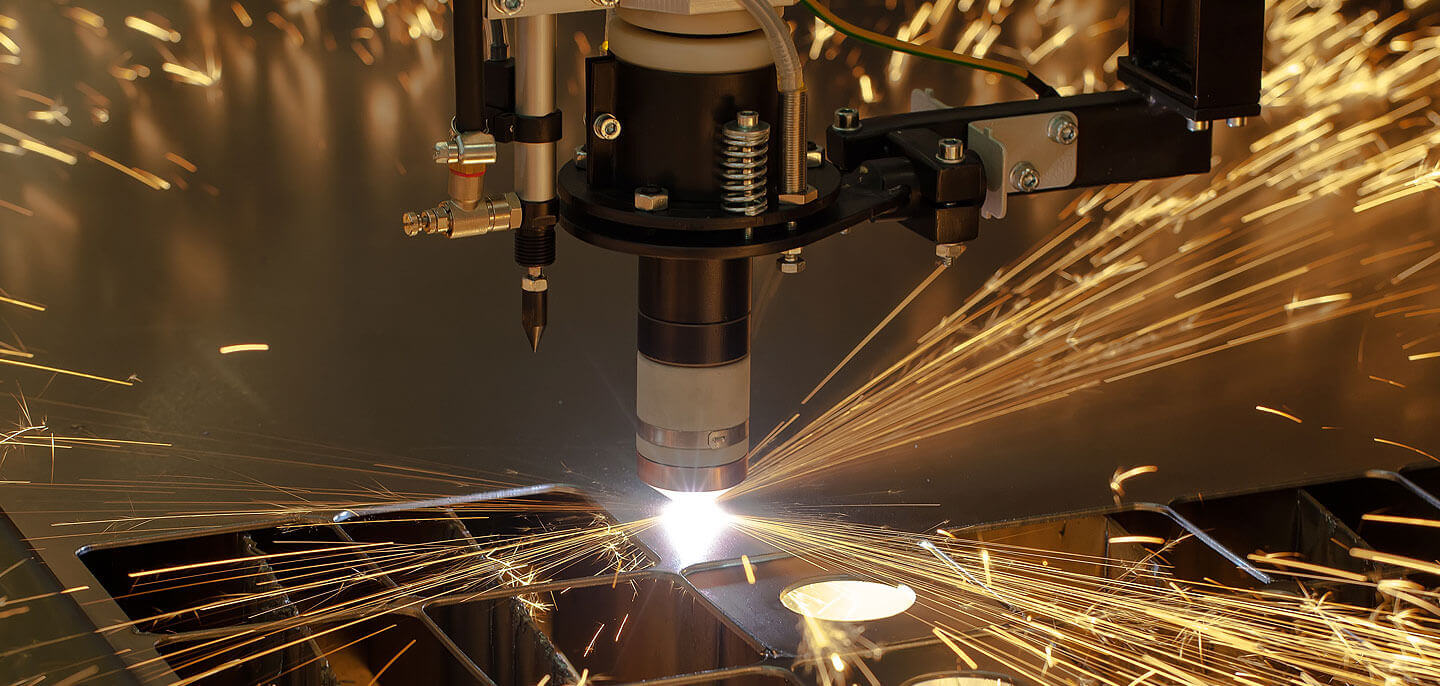 Process Cutting Equipment
Laser cutters (laser tables)
Plasma cutters (plasma tables)
The cleaning mechanism on the Farr Gold Series industrial dust collector was designed specifically for laser and plasma cutting applications. It can be incredibly difficult to maintain a stable differential pressure for these applications. The enhanced cleaning mechanism is standard on all Farr Gold Series collectors. The cleaning mechanisms along with the inlet design and Gold Cone® cartridge offer our customers great performance and long media life. 
Farr Gold Series on Laser and Plasma Cutting
Plasma cutters are available in portable units—much like an acetylene torch—as well as CNC controlled plasma tables. Laser and plasma tables generate molten metal and smoke, which is pulled down through the grate. The sparks and molten metal settle in the area below the grate. The smoke is then removed through the ductwork and filtered through the Farr Gold Series collector.
Sizing Recommendations
Two of the most important factors in collector sizing are the expected amount of smoke particulate being collected and the material being cut.
Several things affect the amount of particulate being collected (the loading). First is the amperage of the plasma cutter itself. A 300 amp plasma will cut much faster and have a much higher loading than a 100 amp plasma. Some tables may have two heads operating at the same time.
A zoned table will have a much higher loading due to the lower airflow for the amount of material being collected. It can be compared to source capture versus general ventilation on non-zoned tables.
We are very happy with the Farr Gold Series. The GS36 was purchased for our CNC plasma cutter to replace a [competitor's] cartridge dust collector due to short filter life. The current filters have been in for over a year and still look great and are operating at less than 3" pressure drop. Also, the Farr people have been a pleasure to do business with.

-Dan Schuler, Schuler Mfg.
When cutting aluminum, the air to cloth ratio should also be lowered. The air to cloth ratio should be no more than 1:1 on lighter loadings and as low as 0.5:1 on very heavy loadings. HemiPleat Fire Retardant cartridges should be used in this application at these air to cloth ratios.
Laser Cutting
Laser tables use a different technology for cutting than plasma tables, but the applications are very similar. The particulate from laser tables is much smaller and more spherical. Even though the loading is much lighter, the air to cloth ratio should be from 1:1 up to a maximum of 1.5:1 on Farr Gold Series HemiPleat cartridges. The above precautions for cutting aluminum on plasma tables should be taken when cutting aluminum on a laser table.