Compact dust and smoke separator, especially for the requirements of thermal cutting, metal working and welding.
Applications:
Machine Processing
Non-explosive Dust/Fine Dust
Radiate
Key Features:
Low footprint
Integrated spark arrester reduces space requirements and saves additional costs
Quiet, integrated fan (3500 Pa), IE3
Easy installation – device is delivered ready for operation / no service technician required
Easy maintenance / access for filter change (Model 2 from the ground);
Best filter medium in use: Efficient PTFE filter cartridges
Advanced seal design prevents leaks
Integrated, electrical controller
Mobile data synchronization of the device status (pending filter change, etc.)
What exactly is so special?
The Quantum Series® is a high-performance particulate matter and smoke separator designed specifically for applications in metalworking, thermal cutting and welding. The integrated spark arrestor and the innovative filter design of the Quantum Series® offer maximum efficiency and safety.
Designed to minimize space requirements, the Quantum Series® can be installed directly in production, close to the processing stations, minimizing piping costs and potential sparks due to sparks.Based on decades of experience in manufacturing filtration equipment, the Quantum Series® Camfil APC has a variety of innovative, new features as well as many high quality components that have been proven in other - market leading - Camfil APC filtration systems for years.
Highest performance with the integrated, novel spark arrester
Since spark entry reduces performance, damages the separator and the filter media and above all represents a fire hazard, many separators from other manufacturers use an external spark arrester. This causes additional costs and space requirements. The Quantum Series® has been designed to avoid this expense.
Key Benefits:
Integrated in device
Separation of metal particles and sparks /
large particles are deposited in separate containers
Output: 1,500 m3 / h - 6,000 m3 / h
Unique, patent pending construction
Dual Pulse technology
Unique design with two separate cleaning sections
Prevents dust accumulation on the filters
Enables uninterrupted airflow during impulse cleaning
Ensures longer and more efficient filter life
Patent pending displacement body system significantly reduces compressed air consumption
Highly efficient PTFE filter cartridges
Advanced seal design prevents leaks
Three model sizes - the same footprint!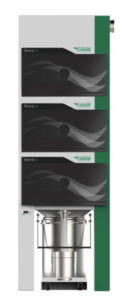 QS6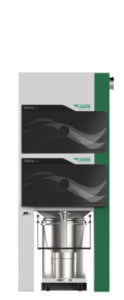 QS4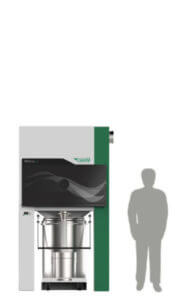 QS2
Flexible, mobile cart with separate dust containers for fine and coarse particles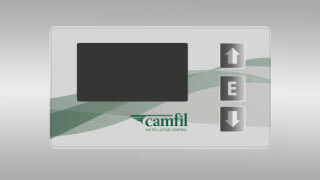 Integrated, easy-to-use control unit, with the Camfil APC GoldLink ™ remote status / error adjustment function online.
Features
Air capacities from 1,500 m³ / h to 6,000 m³ / h
Volume <75 dbA
Pressure drop <1,500 PA
Options
Smoke detectors
Fire suppression
HEPA filter
Service access on one side