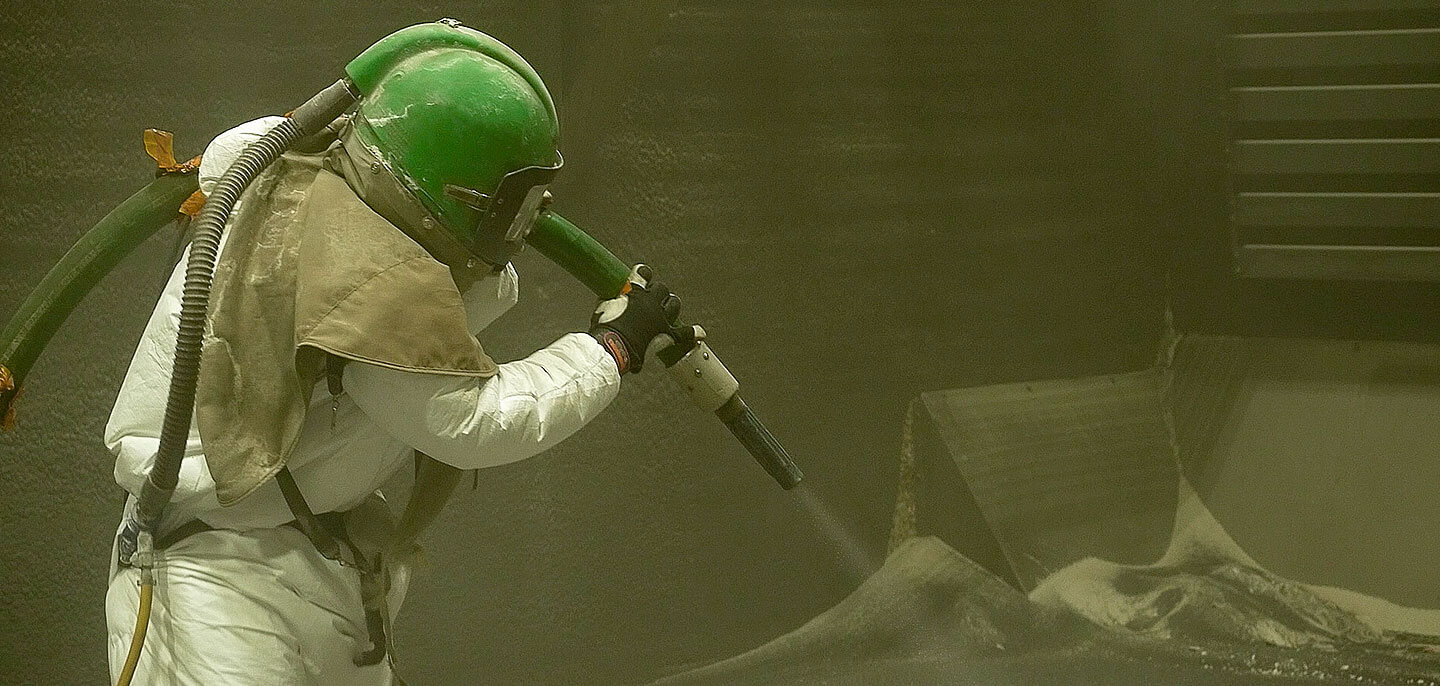 Dust extraction from abrasive blasting processes
In industry, different blasting applications are used with the objective of cleaning, descaling, de-rusting, decoating, surface solidification, deburring, roughening, matting, structuring or surface finish. During these processes, different dusts are produced, which are composed of the material removal of the blasted workpiece (e.B. metal, aluminium, magnesium, titanium, plastic, etc.) as well as the abrasive used (glass beads, ceramics, steel, dry ice, corundum, wire grain, stainless steel, nut shell granules, etc.). These dusts must be reliably captured and separated in order to protect employees, processes and the environment from these emissions and to avoid explosive atmospheres in the blasting system, depending on the abrasive or material used in the workpiece.
Solid blasting is usually used to remove impurities and irregularities from a metal surface to create a certain texture, prepare them for varnishes or coatings, or improve their performance characteristics. The most effective way of detecting and separating the particles of abrasives and impurities that enter the air during the blasting process is to use dust extraction systems.
The requirements for the dust extraction system differ according to the blasting processes used, such as e.B. compressed air beams, low-pressure beams or centling wheel blasting. The application experts of Camfil APC will be happy to advise you on the correct design of the suction systems that are most suitable for the respective application, including the detection, piping dimensioning, configuration of the dust removal system incl. risk analysis with regard to explosion and occupational safety. Special precautions are required if the blasted material is explosive, flammable, corrosive or toxic.
Camfil APC offers extraction solutions for the following blasting applications:
Wheel blasters
Air blasters
Cabinet blasters
Blasting rooms
Sandblasting
Plastic media blasting
Abrasive blasting
Peening
Aluminum blasting
Blasting with silica sand
Dust extraction system for industrial blasting applications - Gold Series X-Flo®
The modular Gold Series X-Flo (GSX) dust collector was engineered to solve tough dust problems with a minimal footprint. It captures dangerous airborne metal dusts before they can be inhaled by operators or build up on shop surfaces. Camfil experts will work with you to understand your specific application requirements. Individual modules accommodate airflows up to 10,000 m³/h each, providing a near-limitless variety of configurations that can be delivered in days instead of weeks. All GSX collectors feature heavy-duty carbon steel construction and thermal cured powder coatings for unparalleled strength and durability.
More information about Gold Series X-Flo
Application-Specific Extraction Solutions - We Will Be Happy To Advise You!