High-performance filter cartridges for the Gold Series X-Flo dust & fume collector
Gold Cone™ X-Flo (GCX) filter cartridges are the most advanced dust collector filters ever made. They feature proprietary HemiPleat® filter media that stays cleaner and lasts longer than conventional pleated filters. Each GCX filter contains 35 m² of media, offering the industry's highest filtration rate. The innovative design provides a low pressure drop, which means fewer filters are required for a given application.
GCX filters were designed specifically for the Gold Series X-Flo dust collector. Used together, you get the most powerful and cost-efficient dust collection system on the market. The system maximizes airflow while minimizing filter change-outs, compressed air usage and energy costs.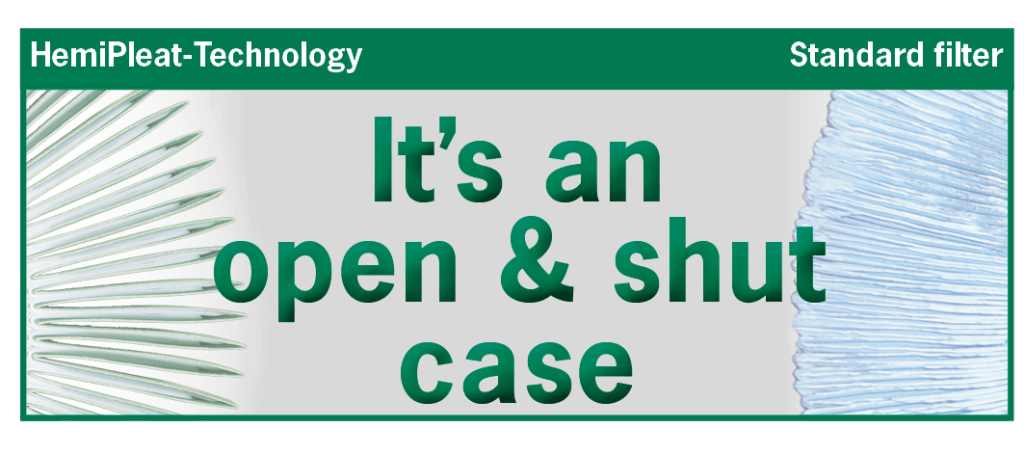 Key Features of Gold Cone X-Flo filters
Gold Cone X-Flo Filters vs Other Filters
HemiPleat® Technology
HemiPleat® technology is our unique method of creating highly efficient pleated filter media. Synthetic beads hold the pleats open and evenly spaced. Open uniform pleats expose more media to the airstream so that more dust is loaded on the filter and then released when pulse-cleaned. HemiPleat filters are far more efficient than standard filters.

Gold Cone™ Technology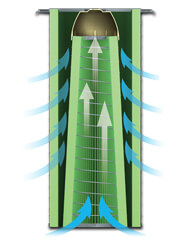 GCX cartridges feature our proprietary Gold Cone™ inner pleat pack. This open-bottomed, inner cone of media greatly expands the usable surface area of cartridges. They stay cleaner and last longer than conventional pleated filters.
The inner cone is configured so that pulsed air is evenly distributed top to bottom along the outer pack of the filter and down through the inner cone pack. With each pulse, the X-Flo filter cartridge ejects more dust out of the collector than any other filter and helps maintain a low pressure drop.
More Downward-Facing Media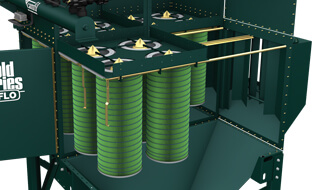 GCX filter cartridges are engineered to put dust in its place – into the collection bin where it belongs. GCX filters, and their unique location in the collector, position more downward-facing media than any other system. 40% of each HemiPleat filter cartridge is focused on discharging collected dust straight down to the hopper. This offers a huge advantage over horizontal-style filters that pulse 90% of the dust back onto adjacent filters and only 10% into the hopper.
GOLD SERIES X-FLO DUST COLLECTOR
Gold Cone X-Flo filter cartridges are made exclusively for the Gold Series X-Flo dust collector (GSX), the industry's best-in-class dust collection system. It's built on 20 years of successful performance of our award-winning Farr Gold Series® system. It handles all kinds of toxic and combustible dusts and fumes, including fine, fibrous and heavy dust loads. GSX dust collectors effectively process dust while maintaining a low pressure drop. You get the maximum airflow and dust processing power for any given footprint.